ISO 15189
In 2011 the Laboratory Diagnostic Center was the first in Lithuania to be accredited to international ISO 15189 standard designed expressly for medical laboratories.
This logo indicates that the research was made by an ISO 15189 accredited laboratory.
It is an international recognition of research precision and reliability guarantee.
The superior quality of the lab tests and their reliability are ensured through internal and external quality systems. The accuracy of the Center lab tests is controlled by the quality system LABQUALITY (Finland), which is certified under the ISO 9001 standard.
ISO 9001:2008 and ISO 14001:2004
The Medical Diagnostic and Treatment Center was one of the first Lithuanian healthcare institutions to implement integrated quality management system certified by the international organization Bureau Veritas Certification with the certificate ISO 9001:2008 (2004–2014 years) and ISO 14001:2004 (2004-2010 years).
JCI
In July 2015 the Medical Diagnostic and Treatment Center was accredited with the US international Joint Commission International (JCI) Hospital standard.
It is one of the highest appreciation, which may be awarded to any health care office on the world-wide scale, so the title of the "Gold Quality Standard" has been nominated to this exceptional award.
It is worthwhile mentioning that the prestigious JCI quality award is received by less than 0.5% world hospitals. Such a small number of the medical entities, which have implemented this quality standard, proves that this international accreditation is a very high quality and safety appreciation of the medical office. The progressive world clinics pursue to this international prestigious accreditation, which proves that a medical office assures very high requirements, raised to the quality and safety of the supplied services, medical employees' qualification and competence, medical technologies and infrastructure, clinical and management processes, patient's attendance and other significant areas.
Accreditation is valid till September 2021.
GCR (Global Clinic Rating)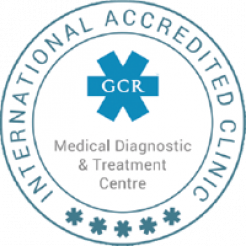 On June 2018, the Medical Diagnostic and Treatment Center (hereinafter referred to as the "Center," "MDTC") was awarded with the Global Clinic Rating (hereinafter referred to as "GCR") Quality Certificate. This Certificate certifies that MDTC finds itself among 100 clinics of the world, evaluated as exceeding the international standards. It is another recognition of the Medical Diagnostic and Treatment Center as the institution providing the medical services to international patients on a global scale.
Global Clinic Rating started its activities in spring of the year 2014; and the basic rating of 126 thousand clinics established in various ends of the earth have already become acceptable to the general public in autumn of the year 2015.
Accreditation is valid till September 2020.
The Diplomatic Council
In December 2015 the Medical Diagnostic and Treatment Center (MDTC) was awarded the United Nations-accredited Diplomatic Council quality certificate and status of preferred partner hospital. This is yet another global stamp of approval that the MDTC provides top-notch medical services to international patients.
The Diplomatic Council is a global non-governmental think tank serving as a bridge between diplomacy, economy and society that brings together more than 5,000 diplomatic and economic experts and public figures. Preferred partner status is granted to medical institutions certified by TEMOS International. The Diplomatic Council then recommends the institutions to embassies and consulates.
The MDTC was evaluated as having modern diagnostic and treatment equipment; high-quality and safe medical treatments; an experienced, friendly and attentive staff; qualified management; attentive hospitality; and pleasant service.
Certification is valid till June 2021.
TEMOS
In June 2015 the Medical Diagnostic and Treatment Center became the first health care institution in Baltic States certified according to two international TEMOS (Trust Effective Medicine Optimized Services) standards:
"Quality in International Patient Care"
"Excellence in Medical Tourism"
According to these internationally accepted Medical Tourism Quality Standards, medical and non-medical services of health care institutions for foreign patients are assessed. Standards are oriented to the entire overall service cycle of medical tourists and foreign patients - providing services before the foreign patients come to the MDTC, when they come, when they go and after their return to their home country.
Accreditation is valid till June 2021.
Treatment Abroad Accredited (TAA)
In 2012 the Medical Diagnostic and Treatment Center was successfully assessed and accredited under the TA Code of Practice in the field of medical tourism.
Health care institutions that have voluntarily implemented this standard are appreciated as rendering high quality service and promoting the development of the best practice in the field of medical tourism.
This is an important factor for international patients when choosing a health care institution.
Deputy Director for Medicine.
Accreditation is valid till September 2019.