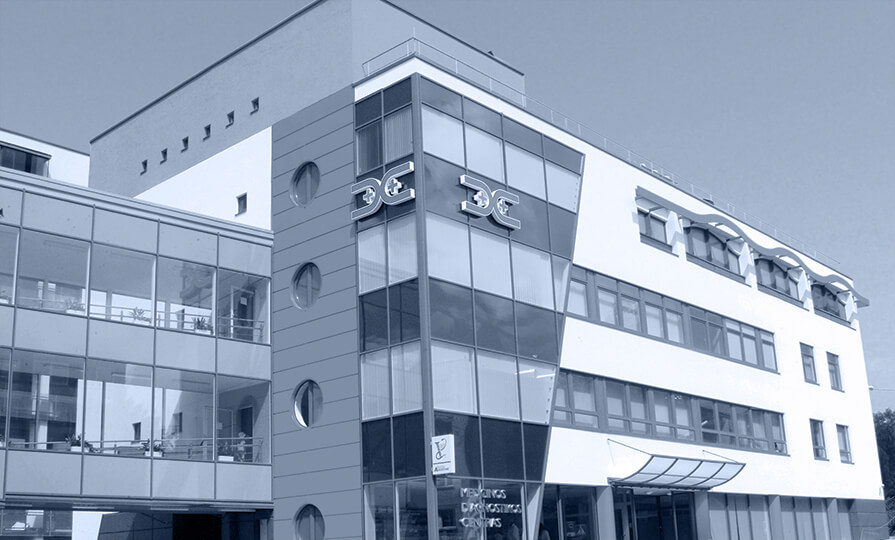 We are one of the biggest private medical institutions in Lithuania, and the country's pionner and leader in private medicine. Medical Diagnostics and Treatment Center provides the widest range of health care services in Lithuania on private basis – from disease prevention to accurate diagnostics, effective therapeutic and surgical treatment, and high-quality rehabilitation.
The condition for our successful treatment is an accurate diagnosis, for which the Center performs extensive instrumental and laboratory tests. We constantly invest in the most modern medical equipment and technologies, use medical devices and medicines of the world's most famous manufacturers, and apply the latest treatment methods.
At the Medical Diagnostics and Treatment Center, we ensure patient safety, confidentiality of information, comfort and constant attention.
We have gained recognition not only in Lithuania, but also abroad. Every year, over 123,000 patients entrust their health to us. Every tenth of them comes from abroad: the United Kingdom, Latvia, Ireland, Norway, Sweden and other Western European countries.
Vision
We aim to be the leader among private healthcare providers in the Baltic region in meeting and exceeding the needs and expectations of our patients in the best way.
Mission
We help you stay healthy and do everything to help you recover from an illness in the quickest and safest way.
Goal
To diagnose illness and prescribe treatments – within 1 day.
Why is it worth it for us
We have gathered a team of professional physicians representing all main fields of medicine
Over time we have gained trust and respect of our patients, as we have gathered a team of over 160 highly qualified healthcare professionals, whose practice covers 53 fields of medicine, including over 40 honorary PhDs, professors, medical doctors, and associated professors renowned not only in Lithuania but also abroad. Experienced physicians, laboratory personnel and nurses form a smoothly working team, which is our key factor of our differentiation and advantage. Over time, we have gained trust and respect of our patients. Over 64,000 Lithuanian and foreign patients restore their health and recreate in our Center annually. Every second of them, who has visited us at least once, decides to use our services regularly.
We base our cooperation with patients on respect and attention
We treat every patient as a value: we demonstrate respect, attention and understanding. We take care of them from the minute they enter the Center to the minute they leave it, and always show interest in how are patients getting well after they leave the Center. We keep our ear open to the patient's complaints, aiming to hear even the things that are not expressly stated. We pass over the information on prescribed examinations, diagnosis and treatment accurately and comprehensibly.
We offer a wide range of health care services
Medical Diagnostic and Treatment Center offers over 1,100 different health care, prevention, diagnostic and therapeutic and surgery services to its patients. We offer medical equipment for lease.We carry out over 500 different types of laboratory tests: from usual blood or urine tests to the most complex cancer trace tests and molecular diagnostic.Over 100 different surgeries are carried out in our Surgery Center. A part of them is compensated by territorial patient funds. Those, who have concluded extended annual health care service agreement, get integral and comprehensive health care. Patients are consulted by a family doctor and, in case of necessity, by other physicians working for the Center. Laboratory and instrumental tests, preventive health checks and some surgical procedures specified in the agreement are available for such patients.
We use modern and safe equipment
We have one of the most modern in Lithuania and especially powerful magnetic resonance tomograph, particularly high resolution of which enables us to diagnose even the most complicated diseases. Examinations performed using this tomograph are safe for both, the patient and the doctor. We perform examinations on 128-layer computed tomography with particular precision and expedition, in 1–2 minutes. The unit has a special patient safety program, which reduces the irradiation of the person undergoing the examination by up to 68%, compared to usual computed tomographies. The Center purchases medical and laboratory equipment, medical surgery tools and facilities from the most reliable global suppliers known for the highest quality: Siemens, General Eletric, Olympus, Karl Storz, Alcon, Roche, etc.
We protect patient privacy and ensure data safety
Programmers of Medical diagnostic and Treatment Center have developed a unique information system Med.I.S, which is adapted to the needs of the health care institution. Thanks to it, we can ensure confidentiality of personal information, information on patient's health and rendered services; we archive patient's health records in electronic format and effectively manage data flows.
We render high quality service
Quality of service at the Medical Center meets the highest European standards; Medical Center is certified under the international ISO standard: LST EN ISO 9001:2008. Special attention is paid to secondary infection prevention and post-operational treatment. The highest quality and reliability of laboratory tests are secured by laboratory internal and external quality systems. Precision of laboratory tests carried out at the Center is controlled under the LABQUALITY system (Finland), which is certified under the ISO 9001 standard.
We cooperate with a number of Lithuanian and foreign life and health insurance companies
We have concluded agreements with all major Lithuanian life insurance companies: SEB Life Insurance, ERGO Lietuva Life Insurance, Mandatum Life, Aviva Lietuva, PZU Lietuva Life Insurance, AMPLICO Life S.A, Compensa Life Vienna Insurance Group SE etc. We cooperate with a number of foreign life and health insurance companies: AXA PPP Healthcare (United Kingdom), BUPA International (United Kingdom), Allianz Worldwide Care Ltd. (Ireland), Aetna International (USA), Cigna International (USA), Euro-Alarm A/S (Denmark), International Health Insurance (Denmark), etc. Private life and health insurance companies cover treatment costs of their clients.
More about the Medical Diagnostic Center