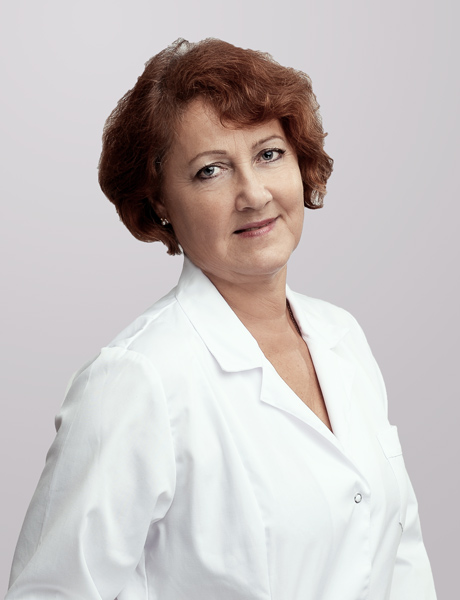 Doctor Eidziuniene Jurate
Darbo laikas
I
10.00 a.m.-4.00 p.m.
II, IV, V
8.00 a.m.-2.00 p.m.
III
8.30 a.m.-2.30 p.m.
since 1984
professional experience
90 000+
consultations through work placements
Consults and treats joints, bones, ligaments and muscles diseases, performs specially prepared injections from the patient's blood. She has extensive experience working in one of the largest Santara clinics in Vilnius University in Lithuania. She constantly improves her qualification in Lithuania and abroad.
Regularly lectures general practitioners on internal osteoarthritis and osteoporosis.
Services
Diagnoses and cures these diseases
Rheumatoid arthritis
Osteoporosis
Osteoarthritis
Osteochondrosis of the spine
Spondylosis
Fibromyalgia
Ankylosing Spondylitis (Bechterev's disease)
Psoriatic arthritis
Reactive arthritis
Gout
Enteropathic arthropathies
Infectious arthritis
Sjogren's (Dry Syndrome)
Erythema nodosum
Systemic lupus erythematosus
Systemic sclerosis (sclerodemia)
Dermatomyositis
Vasculitis
Usually prescribes and performs tests and procedures as follows
Blood tests for infectious diseases
Blood tests for osteoporosis
Magnetic resonance imaging (MRI) examination
Computed tomography examination
X-ray examination
Arthroscopy of the joints
PRP injections with hyaluronic acid
Patients about doctor
Rasa Soloy
Thank you, dear doctor, for a very thorough examination and consultancy performed professionally and attentively, and for referring me for treatment to Doctor Kestutis Linkus. Thanks to you, I had treatment and my health is improving every day. I saw a rheumatologist and a paediatrician and had...
Read all comment