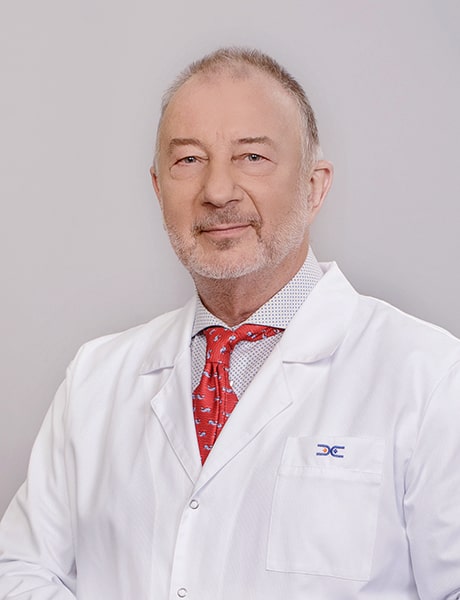 Doctor Fisas Jokubas
Darbo laikas
III
9.00 a.m.-9.00 p.m.
II, V
2.00 p.m.-8.00 p.m.
since 1981
professional experience
100 000+
consultations since the start of clinical practice
Dr Fišas provides consultations to patients on all neurological disorders and orders the necessary investigations; he specialises in the diagnosis and treatment of cerebrovascular diseases, degenerative spine diseases, memory disorders, disorders of the autonomic nervous system and neuroinfectious diseases.
He has published over 100 publications in both Lithuanian and international journals; most of them have featured in scientific journals.
Dr Fišas has extensive professional experience and continues his professional development both in Lithuania and abroad.
Dr Fišas works with trainee doctors and is head of practical training for students studying at Vilnius University Faculty of Medicine.
Services
Dr Fišas diagnoses and treats the following diseases
Parkinson's disease
Epilepsy
Functional cognitive disorders
Sleep abnormalities and other disorders of the consciousness
Migraine and other types of headache
Peripheral nervous system disorders
Movement disorders
Alzheimer's disease
Depression etc.
Tests and procedures most frequently ordered or performed
Electroencephalography (EEG)
Magnetic Resonance Tomography (MRT)
Computed tomography (CT)
Thyroid function tests
Vitamin deficiency tests
Infectious disease tests (e.g., Lyme disease)
Kidney function tests
Lipidogram etc.
Patients about doctor
A M
I'd like to thank Doctor Fišas for pleasant communication and a high quality consultation. I came from Ukmergė for a consultation and was pleasantly surprised at the quality of the services and the good doctor, and I hope that the prescribed treatment will work. The nurses who assisted the doctor...
Read all comment
Ana Sokolova
I thank Dr Fišas for help treating my back pain, professionally performed procedures, wisdom and spiritual support. Thank you for your advice, for your warm and sincere conversation. Thank you for your empathy.
Olga Arta
very good, very...