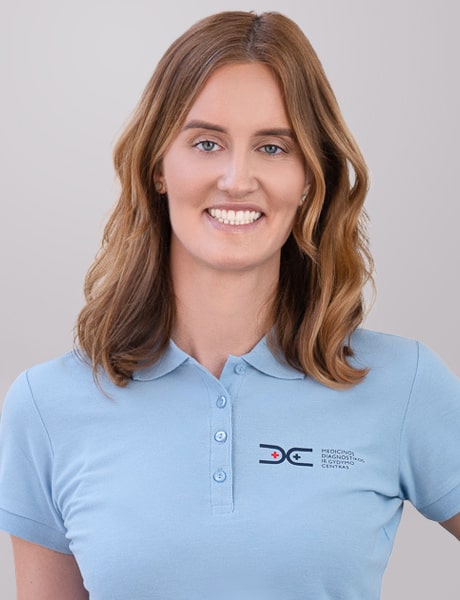 Doctor Gliaudytė Austėja
Darbo laikas
I, III
8.00 a.m.-4.00 p.m.
II, IV
12.00 p.m.-8.00 p.m.
V (rotating)
8 a.m.-4 p.m./12 p.m.-8 p.m.
since 2008
professional experience
88000+
procedures during the professional career
44000+
patients during the professional career
Vertina kūdikių ir vaikų judesių raidą ir bendrosios motorikos funkciją, nustato specifinius judesio raidos sutrikimus, atlieka kineziterapijos procedūras, moko tėvus atpažinti ir koreguoti neteisingas vaiko padėtis bei judesius. Padeda tėvams susipažinti su kūdikio saugaus nešiojimo galimybėmis bei judėjimu pirmaisiais jo gyvenimo metais. Pratimai atliekami salėje ant kilimėlio, kamuolio, volo. Veda užsiėmimus moterims, norinčioms pasiruošti prieš gimdymą arba atsistatyti po gimdymo, turinčioms šlapimo nelaikymo problemų.
Taiko individualias kineziterapijos procedūras salėje po operacijų, ligos ir/ar traumos. Domisi griaučių ir raumenų sistemos sutrikimais (GRS), tai yra sąnarių ar kitų audinių pažeidimais. Sveikatos problemos gali būti įvairios – nuo nedidelio skausmo iki sunkesnių sveikatos sutrikimų (apatinių galūnių -klubo, kojų, kelio, pėdos; pečių juostos, kaklo, nugaros arba kombinuoti griaučių raumenų skausmai). Paruošia klientus prieš operaciniam ir po operaciniam periodui, dažniausiai esant kelio, čiurnos, peties sąnarių problemoms.
Konsultuoja/moko mėgėjiškai sportuojančius ar norinčius pradėti taisyklingai ir be traumų sportuoti. Moko pajausti ir pažinti savo kūną. Supažindina su "pratimų abėcėle".
Yra kvalifikuota Maitland manualinės terapijos specialistė. Maitland terapiją taiko efektyviai gydant funkcinius sąnarių, kaulų ir nervų sistemos sutrikimus.
Specialists services for adults
Treats patients with these conditions and injuries
Shoulder joint movement disorders (inability to perform motions with the arm)
Physiotherapy before/after knee, ankle, or shoulder joint surgery
Physiotherapy after trauma: ankle strain, knee injuries, pain
Back pain (lumbar, thoracic, cervical). Back pain prevention
Classes for women who want to tone up in the postpartum period
Consulting/teaching amateur athletes and everyone who wants to know how to exercise correctly
Provides these services
Corrective/therapeutic exercises, movement correction
Passive joint mobilization
Passive stretching
Teaching correct breathing techniques
Specialists services for infants under a year
Treats patients with these conditions and injuries
Motor developmental disorders
Down syndrome
Hip dysplasia
Change in muscle tone: high, low, inconsistent
Infant health promotion workout in the gym
Provides these services
Positioning
Sensory stimulation
Passive movement 'inducing' isometric (muscle contraction)/active movement