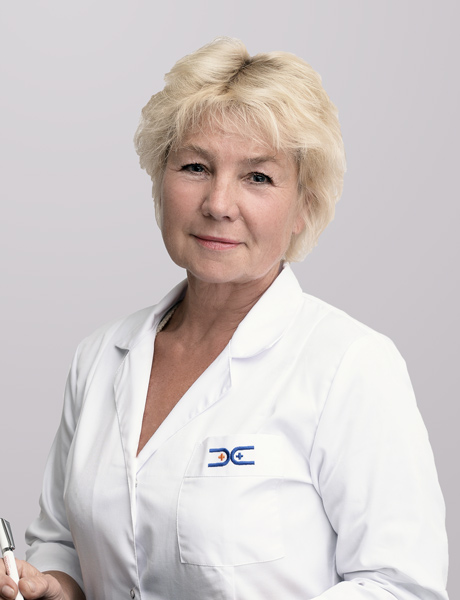 Doctor Januskeviciute Audra
Darbo laikas
I, II and IV
7.30 a.m.-3.00 p.m.
V
8.00 p.m.-15.00 p.m.
since 1981
professional experience
100 000+
consultations since the start of clinical practice
Dr Januškevičiūtė provides consultations to patients on all neurological disorders and orders the necessary investigations; she specialises in the diagnosis and treatment of peripheral nervous system disorders and headaches.
Dr Januškevičiūtė has many years of professional experience and continues to participate in professional development activities both in Lithuania and abroad.
Services
Dr Januškevičiūtė diagnoses and treats the following diseases
Parkinson's disease
Epilepsy
Functional cognitive disorders
Sleep abnormalities and other disorders of the consciousness
Migraine and other types of headache
Peripheral nervous system disorders
Parkinson's disease and movement disorders
Alzheimer's disease
Depression etc.
Tests and procedures most frequently ordered or performed
Electroencephalography (EEG)
Magnetic Resonance Tomography (MRT)
Computed tomography (CT)
Thyroid function tests
Vitamin deficiency tests
Infectious disease tests (e.g., Lyme disease)
Kidney function tests etc.
Patients about doctor
Anastasija Ivanova
Hi, I'm very grateful to this doctor. Suddenly I felt poorly (due to my back pain), but I didn't get help at Lazdynai Hospital, they didn't even send me to the neurologist, although I asked if it was helpful. In a word, only when I contacted the Medical Diagnostic and Treatment Center did I receive...
Read all comment
Violeta L
A very pleasant doctor. She explained everything in detail and prescribed treatment. I would like to thank the doctor for her sincerity and professionalism. I would also like to thank the nurse – a pleasant and helpful person, I was surprised and satisfied with how I was treated and with the...
Read all comment