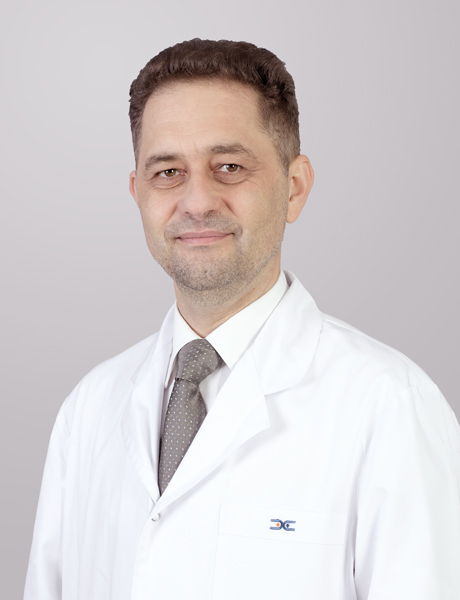 MD
Doctor Kvascevicius Robertas
Darbo laikas
V (even days of the month)
3.30 p.m.-7.00 p.m.
since 1994
in medical practice
67 000+
consultations during his medical career
4 000+
various orthopaedic surgeries during his medical career
Robertas Kvaščevičius diagnoses and treats various brain and spinal cord injuries, diseases, and tumours, and also treats chronic pain.
As part of his continuous professional development Dr Kvaščevičius has attended more than a dozen international traineeships in the US, Austria, and Finland among others.
He has also (co-)published over ten publications in Lithuanian and international scientific journals.
He is a lecturer at the Faculty of Medicine, Vilnius University.
Dr Kvaščevičius is a member of the Lithuanian Neurosurgical Society, Baltic Neurosurgical Association, European Association of Neurosurgical Societies, World Federation of Neurosurgical Societies and a secretary of the Lithuanian Society of Vertebrologists.
Services
Dr Kvaščevičius diagnoses and treats the following diseases
Spine and spinal cord injuries
Spinal degeneration
Scoliosis
Kyphoscoliosis
Sagittal deformities
Peripheral nerve pathology and injuries
Spine and spinal cord oncology
Vascular pathology of the spinal cord
Brain injuries
Tests and procedures most frequently ordered or performed
Magnetic resonance imaging
Computed tomography
X-ray exams
Spine and peripheral nerve-induced pain treatment procedures
Cranial and peripheral nerve surgeries
Herniated disc surgeries
Patients about doctor
Elvyra Katinėlienė
An excellent doctor who has given hope of recovery, thank you.