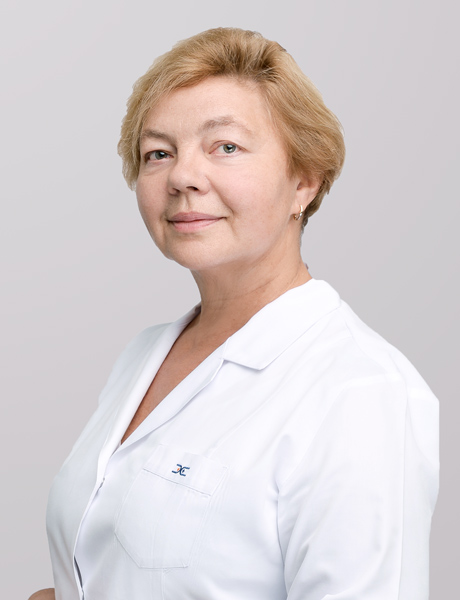 Doctor Markauskiene Antonina
Darbo laikas
I, II, IV, V
7.40 a.m.-2.10 p.m.
III
2.00 p.m.-8.00 p.m.
since 1976
professional experience
1 000+
various gynaecological surgeries and procedures during her career
Performs all minimally invasive (laparoscopic, hysteroscopic) gynaecological surgeries.
Consults on all gynaecology-related questions. At our Centre, she sees about 1,400 women a year, most of them are regular clients. Specializes in gynaecological endocrinology. Performs prenatal care. Has followed a traineeship at the Endocrinology Department, Centre of Scientific Obstetrics, Gynaecology and Perinatology, Russian Academy of Medical Sciences. As part of her continuous professional development, she attends refresher courses in Lithuania and abroad.
Services
Diagnoses and cures these diseases
Uterine myoma
Ovarian cyst
Urinary incontinence
Endometriosis
Vaginal yeast infection (candidiasis)
Menstrual disorders
Bacterial vaginosis
Trichomoniasis
Lichen
Cervical cancer
Ovarian cancer
Usually prescribes and performs tests and procedures as follows
Echoscopy
Cervical cytology (PAP)
Insertion and removal of IUD
Patients about doctor
Eglė Lozoraitytė
I would like to thank Doctor Antonina Markauskienė. A great, sincere doctor whom you may contact on any open issue. The doctor's consultancy was very professional and sincere. I wish the doctor great success in her work.
Austėja Pajarskaitė
A very pleasant doctor. In general, I was impressed by everything – from entering the clinic, to being escorted to the doctor, to the treatment and departure from the clinic. There were no questions or misunderstandings. I felt like I was in paradise.
Rasa Cerniauskiene
I would like to thank Doctor Antonina Markauskienė for a professional and thorough consultation. She is a very caring, pleasant and sincere doctor and one to whom I would be happy to return to. I wish her success and good health