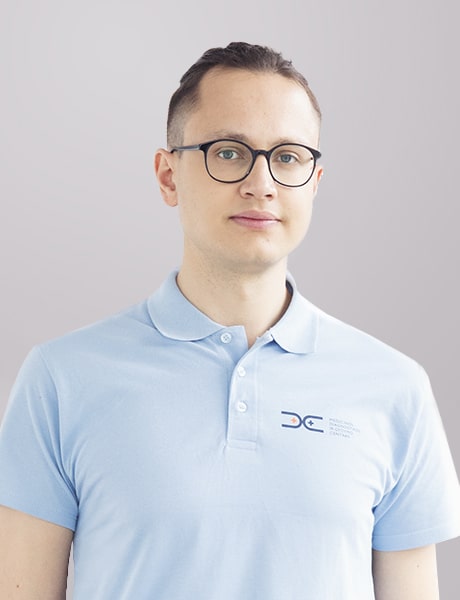 Doctor Rimas Mykolas
Darbo laikas
I, IV
8 a.m.-5 p.m.
II, III, V
12 p.m.-8 p.m.
since 2017
professional experience
9000+
procedures during the professional career
700+
patients during the professional career
Mykolas Rimas offers individual and group physiotherapy activities in the gym and/or in water. He specializes in trauma and orthopaedics, applies different kinesiotherapy methods, different massage, physiotherapy and manual therapy techniques and tools before and/or after surgeries or other prescribed treatment.
Mykolas Rimas gained experience working at a hospital with patients who had suffered different traumas, surgeries, strokes, neurologic disorders, or had paralyzed limbs.
Mr Rimas evaluates the patient's physical activity and designs a physiotherapy programme according to the doctor's prescription and based on the overall health of the patient. He gives method guidelines for patients and their relatives, informs patients about the achieved and expected results.
Specialists services
Treats these conditions and injuries
Spine
Shoulder
Elbow, wrist
Hip, knee, ankle, foot
Provides these services
Individual physiotherapy
Mulligan concept (joint surface mobilization with active movement)
K-active taping
Manual muscle testing
Electrostimulation with motion
Activities with the RedCord system (active and passive motion in horizontal or vertical position without the interference of external forces)
Activities in the pool on an underwater treadmill and bike