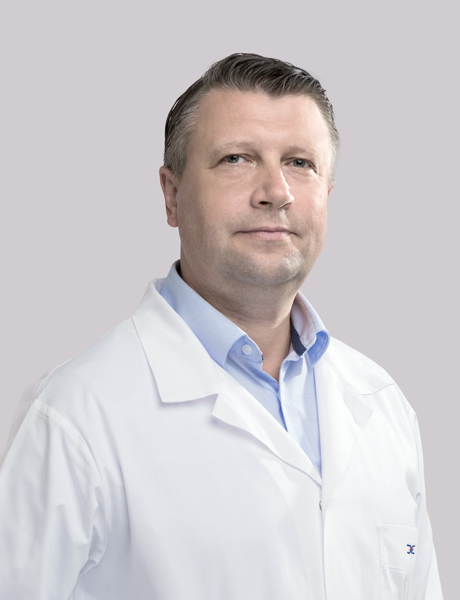 Doctor Navikas Vygandas
Darbo laikas
I
9.00 a.m.-1.00 p.m.
II
8.00 a.m.-4.30 p.m.
since 1997
professional experience
50 000+
consultations since the start of clinical practice
10 000+
different orthopaedic surgeries since the start of clinical practice
Dr Navikas specialises in the surgical treatment of shoulder joint conditions, chronic pain, muscle and tendon tears, partial and total shoulder endoprosthesis, bunion (hallux valgus) and complex fractures. He applies both conservative and surgical treatment when dealing with the fractures of the proximal extremity of the humerus, shoulder blade, clavicle and the long bones. He favours the minimally invasive arthroscopic surgery method.
Dr Navikas has extensive practical work experience. For many years he has been operating in one of the largest hospitals of Lithuania – Vilnius University Hospital (formerly Vilnius Emergency Hospital).
Services
Dr Navikas diagnoses and treats the following illnesses
Bones affecting feet deformities
Bunion (hallux valgus)
Elbow, knee, ankle, shoulder joint injuries
Shoulder injuries
Bone fractures
Dislocations etc.
Tests and procedures most frequently ordered or performed
Magnetic Resonance Tomography (MRT)
X-ray
Laboratory tests
Physiotherapy procedures
Kinesiotherapy procedures
Patients about doctor
SIMONA DE LA MARE
A perfect surgeon!  An attentive and caring doctor. I am pleased to have chosen this doctor for my foot surgery. I will have a surgery of the other foot too and if I need anything in the future I will see this doctor. Thank you very much for excellent care, wishing to you success!