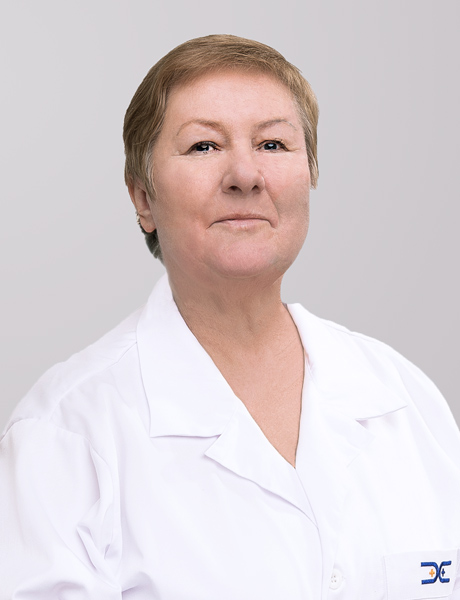 Doctor Sileikiene Nijole
Abdominal surgeons, Endoscopists
Darbo laikas
I
7.00 a.m.-7 p.m.
II
1.00 p.m.-7.00 p.m.
III
7.00 a.m.-3.00 p.m.
IV
7.00 p.m.-3.00 p.m.
since 1980
professional experience
30 000+
endoscopic procedures
5 000+
abdominal surgeries
Dr Šileikienė performs the full range of endoscopic procedures: colonoscopy, gastroscopy, rectoscopy, sigmoidoscopy, capsule endoscopy, and provides consultations to patients on different abdominal conditions.
Dr Šileikienė has vast professional experience. She has been involved in numerous professional development activities in both Lithuania and abroad (Sweden, Czech Republic, Italy, Latvia, Estonia, Monaco, Germany and Hungary).
She has published over 10 scientific articles in her professional field.
Services
Dr Šileikienė diagnoses and treats the following illnesses
Colorectal cancer
Small intestine cancer
Oesophageal and stomach cancer
Anal cancer
Gallbladder cancer
Gallstones
Cholecystitis (inflammation of the gallbladder)
Hepatic cancer
Pancreatic cancer
Pancreatitis
Peritoneal mesothelioma
Abdominal and pelvic cancer
Gastrointestinal organ
Sarkoma Kaposhi
Spleen disorders
Zollinger-Ellison syndrome
Venous thromboembolism (VTE)
Gastroesophageal reflux disease
Stomach disorders
Duodenum disorders
Gastritis
Hernia
Colitis
Liver failure
Bowel endometriosis
Heartburn
Constipation and other bowel disorders
Tests and procedures most frequently ordered or performed
Endoscopy investigations and manipulations
Biopsies
Stoppage of bleeding
Tumour removal
Removal of foreign objects
Insertion of prosthesis etc.
Patients about doctor
Ieva Tumosienė
A great doctor and a warm person. I was very nervous before the examination, but everything went well. If I needed a consultation again, I would certainly come back to this doctor.
Vladimir Kitov
Excellent doctor. 10/10.
Daiva Bagužienė
I would like to thank Nijolė Šileikienė for her professionalism. She is a very good doctor who explains everything in detail about the identified health problems; she is very pleasant, caring, many thanks. I wish the doctor good health, so that she can continue looking after patients.