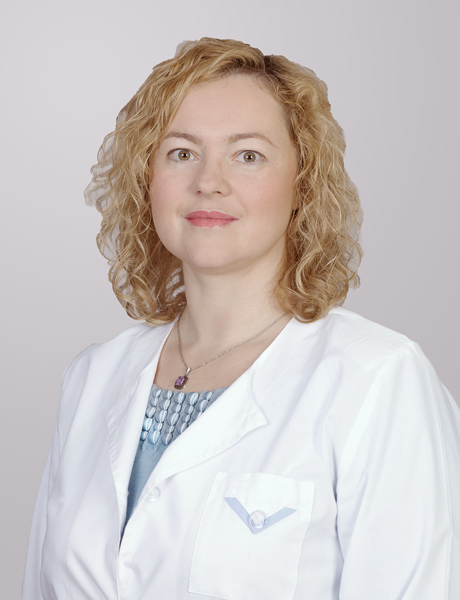 Doctor Sitkauskiene Ingrida
Darbo laikas
I
8.00 a.m.-2.00 p.m.
II
8:00 a.m.-1.00 p.m.
III
8.00 a.m.-2.00 p.m.
IV
8.00 a.m.-11.30 a.m.
VI (Electroneuromyography (ENMG))
8.00 a.m.-9.30 a.m.
VI (consultations)
9.30 a.m.-3.00 p.m.
since 2002
professional experience
45 000+
consultations since the start of clinical practice
2 000+
ENG, EMG tests since the start of clinical practice
Dr Šitkauskienė performs electroneuromyography tests (ENoG, EMG, evoked potentials), electroencephalography (EEG) and intraoperative neurophysiological monitoring during neurosurgery procedures.
Dr Šitkauskienė gained extensive work experience in the largest hospitals in Lithuania – Vilnius University Hospital Santaros Klinikos and Vilnius University Hospital.
Services
Dr Šitkauskienė diagnoses and treats the following diseases
Epilepsy
Multiple sclerosis
Functional cognitive disorders
Sleep abnormalities and other disorders of the consciousness
Migraine and other types of headache
Peripheral nervous system disorders
Parkinson's disease and movement disorders
Alzheimer's disease
Depression etc.
Tests and procedures most frequently ordered or performed
Electroencephalography (EEG)
Electromyography (EMG), electroneurography (ENoG)
Evoked potentials
Magnetic Resonance Tomography (MRT)
Computed tomography (CT)
Thyroid function tests
Vitamin deficiency tests
Infectious disease tests (e.g., Lyme disease)
Kidney function tests etc.
Patients about doctor
Nerijus Stankevičius
A great doctor and a specialist in her field who always tries to help and treats the patient seriously rather than offhandedly ... I wish the doctor success in her work and personal life. Thank you.