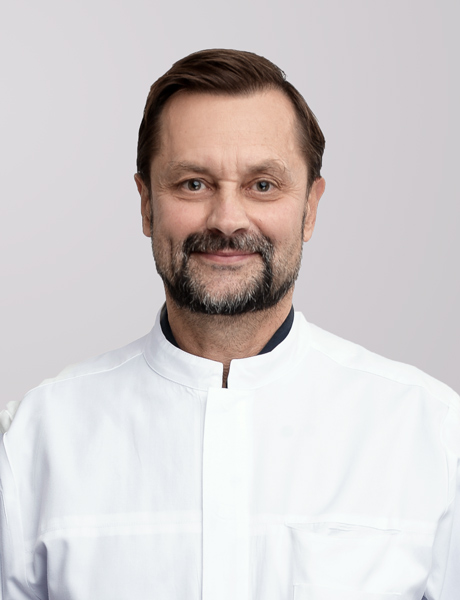 since 1982
professional experience
140 000+
consultations during his career
One of the most experienced paediatric gastroenterologists in Lithuania. Diagnoses and treats various gastrointestinal diseases in children, advises parents on growth disorders, child nutrition, malnutrition or obesity, food allergies, probiotics and prebiotics. Specializes in the diagnosis and treatment of celiac disease. V. Urbon was awarded a PhD in Biomedical Science for his research work "Complex Diagnosis of Celiac Disease".
His professional knowledge is deepened at international conferences and internships around the world. He has published more than 140 scientific publications in international and Lithuanian scientific journals, co-author of the textbook "Children's Diseases" and "Family Physician's Guide". He has presented over 100 papers at various Lithuanian and international scientific conferences. He organized 40 national and international scientific conferences in Lithuania and published 18 publications of these conferences.
For his merits in gastroenterology, Vaidotas Urbonas received numerous awards in Lithuania and abroad. Doctor was awarded with commemorative medal for the 13th January 1991.
Services
Diagnoses and cures these diseases
Gastric and duodenal ulcers
Gastroesophageal reflux disease (GERD)
Crohn's diseases
Ulcerative colitis
Coeliac disease
Malabsorption syndrome
Gastrointestinal allergic diseases
Irritable bowel syndrome
Obesity
Abdominal pain in children
Diarrhoea in children
Constipation in children
Hepatitis – different types
Liver diseases
Pancreatitis – different types
Usually prescribes tests and procedures as follows
Ultrasound
X-ray exams
Ear, nose, and throat exams
Eye exams
Lab tests