Surgical treatment of varicose vein with laser
The varicose veins in our Centre are treated using a modern laser VenaCure 1470, USA. Such laser is used by the most advanced clinics worldwide, raising the highest safety and quality standards.
It is important that a laser has additional patient safety systems. They are equipped with covered optical fibres, which protect vein walls against the damage. This reduces post-surgical pain and even more facilitates rehabilitation. Before the treatment and during the surgery the surgeon can control the situation with ultrasound equipment, therefore the laser procedure is more precise and reduces likelihood of varicose relapse up to 10 percent, while the procedure applying surgical technique – up to 50 percent.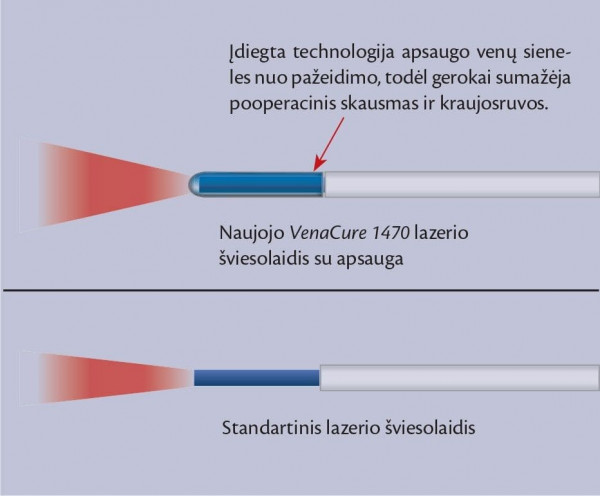 The implemented technology protects vein walls against the damage, thus leading to significantly reduced post surgical pain and haemorrhages.
Laser VenoCure 1470 optical fibre with protection
Standard optical fibre
Advantages of vein laser treatment:
reduced traumatisation of the patients: minimal scars, haemorrhages and swelling,
painless and short-term treatment (duration 10–40 min. depends on the number of injured veins and treated area).
local anaesthesia is applied,
the patient is fully capable to work and can flight short distances on the same day.
Laser vein surgery can be carried out in 95 percent of patients. The scalpel is used only in case of advanced disease. Only in case when complex treatment is available and the majority of veins are removed by laser application in one procedure under local anaesthesia, the micro-incisions are used to remove the remaining veins.
Currently the majority of varicose vein surgeries in the developed countries are made applying laser, as this allows the patients to work during the first hours after the surgery.
The treatment involves use of ultrasound, thus even in 97 percent of cases the splendid clinical effect is obtained.
Price of surgical treatment of leg varicose vein with laser
Varicose treatment is a short, safe and reliable solution; which will prevent pain in your legs, you will be released from the fear and aesthetic discomfort caused by veins appearing on your legs. Treatment price covers the price of consultation, echoscopic examination and surgical treatment applying laser. No additional costs!
What factors affect the price?
The prices indicated below apply to citizens of the Republic of Lithuania and the European Union.
If you are coming from another country please check the price by telephoning or sending an email.
4 reasons
Why it is worth choosing us
Surgery can be performed on the next day after the primary consultation. 10 –40 minutes after the surgery you can stand up and go.
The surgery is carried out by one of the leading specialist in this field in Lithuania.
The newest diagnostic equipment the laser of new generation.
Hospital infection rate – 0 in 5 years.