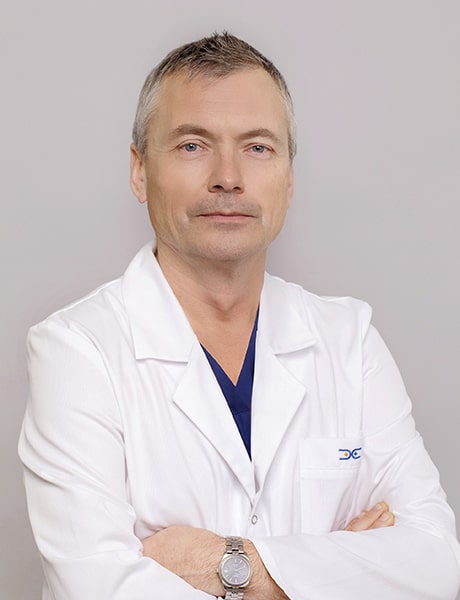 MD
Doctor Mecejus Gediminas
Darbo laikas
V (on even days)
3.30 p.m.-8 p.m.
since 1994
professional experience
5 000+
various gynaecological surgeries during his career
1 000+
myomectomies during his career
Performs all gynaecological surgeries, difficult, including very rare, for example, reconstruction of the vagina (vaginoplasty), and minimally invasive (laparoscopic, hysteroscopic). Specializes in gynaecological endocrinology and endoscopic surgery.
His dissertation for his doctor's degree was titled 'Uterine blood flow at high risk of foetal intrauterine growth restriction'. Head of the Gynaecology Department of Vilnius City Clinical Hospital, one of the largest health facilities in Lithuania; residency supervisor. Continues his professional development in Lithuania and abroad, including Switzerland, France, Scotland, Slovenia, and the Netherlands.
Services
Diagnoses and cures these diseases
Uterine myoma
Ovarian cyst
Urinary incontinence
Endometriosis
Vaginal yeast infection (candidiasis)
Menstrual disorders
Bacterial vaginosis
Trichomoniasis
Lichen
Cervical cancer
Ovarian cancer
Usually prescribes and performs tests and procedures as follows
Echoscopy
Cervical cytology (PAP)
Insertion and removal of IUD
Treatment of vaginal dryness
Correction of labia
Conization of cervix
Removal of myomas
Removal of ovarian cysts
Removal of endometriosis foci
Urinary incontinence surgery
Patients about doctor
Alma Vidžiūnienė
Attention to the patient before and after surgery, broad smile and excellent sense of humour. Professionalism and competence, sincere communication and patience. This man was born to be a doctor, whose easy hand is performing miracles. I am writing about Dr Gediminas Mečėjus. You gain wings after...
Read all comment
Anastasija
I would like to thank Doctor Gediminas Mečėjus for the successful surgery; his professionalism, competence, sense of humour, positive attitude and overall approach to patients and their treatment are second to none. I was delighted with everything:). My post-operative period went well, it was like...
Read all comment