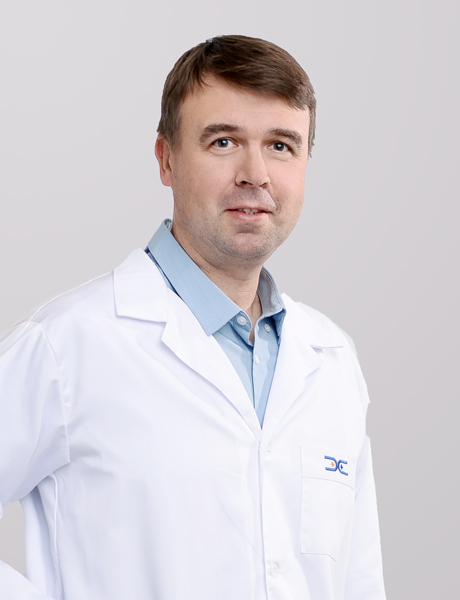 MD
Doctor Rudaitis Vilius
since 2003
professional experience
5 000+
various gynaecological surgeries during his career
2 000+
myomectomies during his career
Performs all gynaecological surgeries, difficult, including very rare, and minimally invasive (laparoscopic, hysteroscopic). Specializes in oncogynaecology.
Head of the Gynaecology Department of Vilnius University Hospital Santaros Klinikos, one of the largest health facilities in Lithuania, previously worked at the Institute of Oncology.
As part of his continuous professional development he attends traineeships, courses and conferences in Lithuania and abroad, including Switzerland, Austria, France, the UK, Germany, and Hungary.
Co-presented a clinical case 'Li-Fraumeni syndrome' at the conference Solid tumour oncology: Breast and genital cancer, Austria, which was included in the website of Salzburg seminars as important teaching material for gynaecologists.
Services
Diagnoses and treats the following diseases
Uterine myoma
Ovarian cyst
Urinary incontinence
Endometriosis
Vaginal yeast infection (candidiasis)
Menstrual disorders
Bacterial vaginosis
Trichomoniasis
Lichen
Cervical cancer
Ovarian cancer
Tests and procedures most frequently ordered or performed
Echoscopy
Cervical cytology (PAP)
Insertion and removal of IUD
Treatment of vaginal dryness
Correction of labia
Conization of cervix
Removal of myomas
Removal of ovarian cysts
Removal of endometriosis foci
Urinary incontinence surgery
Patients about doctor
Viktorija Stolovickaja
I was treated in connection with an oncological disease and I have been under the doctor for six years. During my illness there were often complex questions about treatment methods and he always managed to resolve them. He has always found time to discuss the situation and to get advice from...
Read all comment
Jolita Ruseckienė
My sincere thanks to the doctor for his care and warmth. Although the surgery was not complicated, I was still nervous and worried. I would like to hope that every patient could meet a doctor who can communicate in such a simple, warm and calm manner. The same can be said about the entire staff – I...
Read all comment