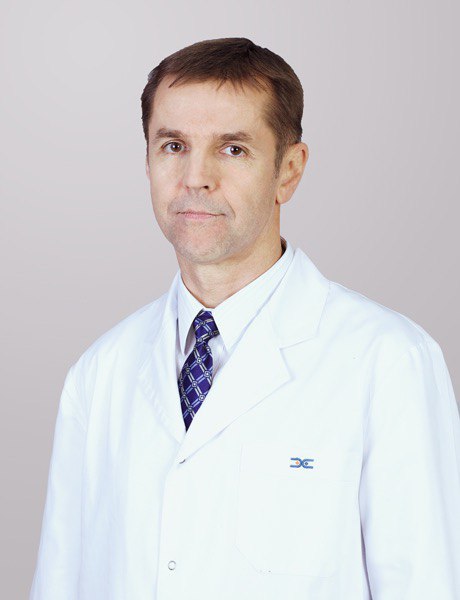 MD
Doctor Jotautas Valdemaras
since 1984
professional experience
10 000+
various abdominal surgeries
Physician's specialisation is coloproctology. Carries out all abdominal surgeries - abdominal wall, navel, inguinal hernia, gall bladder removal, appendicitis, haemorrhoids removal, perforated duodenal obstruction, adhesions, skin and subcutaneous abscess removal, as well as other surgeries.
Preference is given to cost-effective laparoscopic surgery. The physician has extensive practical experience – for many years he has been carrying out surgeries in one of the largest Santara clinics of Vilnius University, formerly at the Institute of Oncology.
Services
Diagnoses and cures these diseases
Haemorrhoids
Anal tears
Anal fistula
Pilonidal cyst
Pilonidal cyst
Anal, rectal, and colon polyps
Diverticulosis of the large intestine
Inflammatory bowel disease
Rectal prolapse, rectal ulcer, and other
Colon cancer
Rectal cancers
Inguinal hernias
Abdominal wall (umbilical, postsurgical) hernias
Femoral hernias
Usually prescribes and performs the following examinations and procedures
Rubber band ligation
Haemorrhoidectomy and other
Surgery for anal fistula, anal tears
Echoscopy of the abdominal organs
General blood count
Blood Coagulation Test (APPT)
Blood glucose test
Electrocardiogram (ECG) with evaluation
Biography
Education, specialty acquired
1976-1982 Vilnius University, Faculty of Medicine, qualification of medical doctor.
1982-1983 Surgery specialty Internship at Vilnius City Clinical Hospital (qualification of a surgeon).
1996 physician surgeon of the highest professional qualification.
1999 granted with the license for the specialised abdominal surgery medical practice.
1999 licensed to practice as a physician-echoscopist.
2004 licensed to practice medicine under the professional qualifications of a physician abdominal surgeon-.
Externally prepared doctoral thesis was defended on June 26, 2007.
Professional experience
1978 - 1982 Vilnius City Clinical Hospital, sanitary.
1982 - 1983 Vilnius City Clinical Hospital, surgeon - intern.
1983 - 1984 N. Akmenė District Central Hospital, physician surgeon.
1984 -up to date, physician surgeon at Vilnius University Hospital Santariškės Clinic, Abdominal Surgery Centre, 2nd Surgery Department;
Since 2006 Vilnius University, Faculty of Medicine, hourly paid employee.
2006 - 2008 Vilnius University, Oncology Institute, hourly paid staff member.
2012 – up to date, lecturer at Vilnius University, Faculty of Medicine.